Latest news
Creating brighter futures for young people leaving care
VincentCare Chief Executive Officer, John Blewonski and Anglicare Victoria Chief Executive Officer, Paul McDonald today joined Treasurer Tim Pallas and Minister for Families and Children, Jenny Mikakos to sign the agreement for COMPASS – Victoria's newest, and Australia's largest, Social Impact Bond.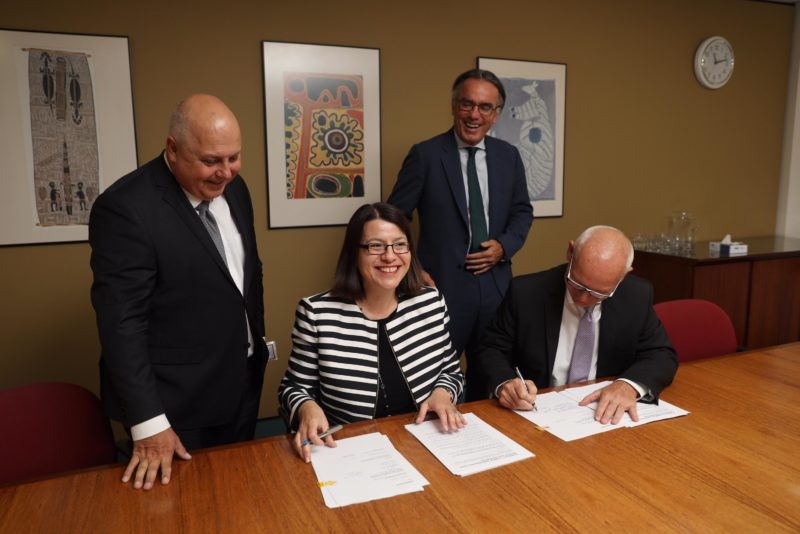 15 February 2018
Social Impact Bonds enable private investors to fund new social programs that address areas of pressing social need. A joint venture between VincentCare Victoria, Anglicare Victoria and the State Government, COMPASS aims to prevent youth homelessness and improve life outcomes for 200 young people as they transition from out-of-home care into independent living.
Based on a preventative model of support, COMPASS provides young people aged between 16-18 years old in Melbourne's west, inner north and Bendigo with access to housing and basic services, via a dedicated case worker, for a period of two years.
Providing a safe, secure home removes the uncertainty many young people face when they leave care and puts them in the best possible position to thrive and develop the skills they need for the future.
"Having a roof over their head and they support they need to look after their health, find a job, or get involved in education and training will help young care leavers to make a successful transition to adult life." – John Blewonski
The success of COMPASS will be measured against targets of reduced homelessness, improved health, and reduced involvement with the criminal justice system, which, if achieved, will deliver tangible benefits for participants as well as delivering economic returns for government and other program funders.
For more information on Social Impact Bonds in Victoria, visit http://www.dtf.vic.gov.au/Victorias-Economy/Social-Impact-Bonds-in-Victoria