Client stories
Garry's story
Garry became homeless following a family breakdown which was triggered when the family business went under. His family home was part of the equity and he lost them both.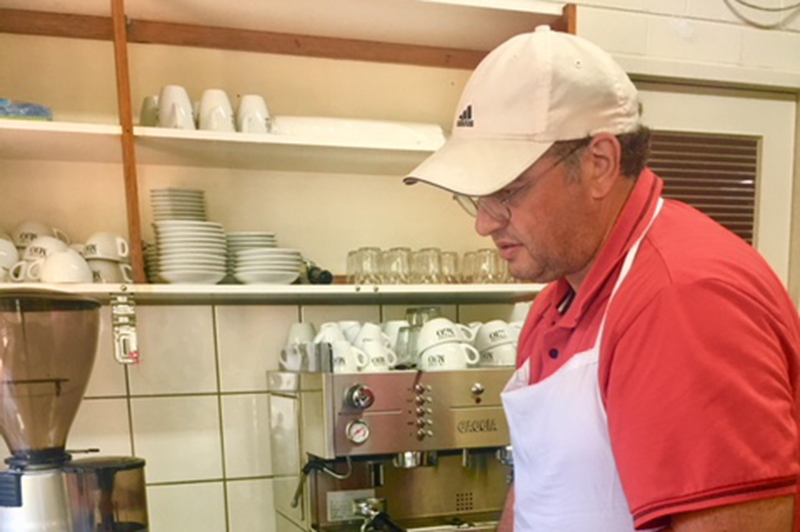 27 June 2018
Prior to entering Ozanam House he was sleeping in his car. Over his six month journey with VincentCare, Garry has reestablished relationships with his children, and completed a barista training course through VincentCare's Community Volunteer program, and is now a qualified barista.
"I went from my childhood home, to my marital home, to my car to Ozanam House. And now I've got my own place … cooking for myself, looking after myself … whereas I never used to do that stuff before.
"With the support I've received through Ozanam House and the programs associated with VincentCare, I've been able to get my life back on track. It has been a long journey. It's close to a year now, 11 months to be exact … but from here, I'm moving forward."
"People who've never slept rough have no idea of the practicalities of being homeless. When you sleep in your bed and you want to go to the toilet at night, you just get up and go to the toilet. When you get home late and you want to have a shower before bed, or you wake up in the morning … you have a shower and clean yourself up and get ready for the day.
"When you sleep in your car, that doesn't happen …you're searching for hot spots like public toilets…you try to find the ones that are clean so you can have a quick wash.
"At Ozanam Community Centre, you can just drop in and have a shower and you can use the laundry and storage facilities. When you're living at home you've got a laundry where you can wash your clothes every day, you can change your clothes every day. You've got somewhere to store your clothes, you've got a wardrobe, you've got cupboards for food.
---
Read more about Ozanam Community Centre
---
"When you're living in your car everything is different. I'm one of the lucky ones, I didn't have to do that for a very long time. But, one night is too much.
"Everyone's story is different and everyone's journey is unique. Everyone's circumstances are different. I have met homeless people and every single one of them have a different reason or a different story to tell as to why they're homeless and how they became homeless.
"It's not a choice to be homeless, believe you me."
"There has to be ongoing support. You don't go to the doctor and say, "listen, I've got a cold" and then he sends you away – instead, he'll treat you individually, ask questions and see what your ailments are and try to rectify them.
"It's the same with someone who is homeless. They have issues or problems and the issue or problem should be treated on a case-by-case basis."
Now that Garry has experienced rough sleeping for himself, he wishes there wasn't so much backlash against homeless people in Flinders Street.
"I think it's ignorance. If you haven't been in a situation I don't think you should be commenting. One year ago, 18 months ago, if someone spoke to me about depression or mental health or homelessness, I would have been very vague.
"It's very difficult to understand unless you've lived that side of it. A lot of people probably comment on situations they really know nothing about … or know very little about … or have been told by a third party."
---
Watch Garry on ABC's The Drum sharing his experience of homelessness.
---
Garry believes that if everyone could access the services he has, it would make a big difference.
"I don't know if it will make every single homeless person not homeless, but it will be a massive step towards rectifying the situation.
"Everyone wants to have a roof over their head, somewhere to cook, somewhere to shower, somewhere to clean … somewhere to have peace and security.  Without support and real action, it's only going to get worse."
"Housing affordability is not available to a lot of people. Rent is very high and a lot of homeless people tend to congregate closer to the city because they all help out each other.
"I've got two boys who are 22 and 13. I still see them every day. I separated from my wife 18 months ago but I speak to her regularly and I've had a lot of support from a lot of people. I haven't been abandoned, it's just my circumstances have kind of shifted me away from the family home.
"I'm one of the lucky ones that have had support from the services and from family as well."
Homelessness can happen to anyone