Latest news
Students to the rescue
Students from Catholic Regional College in Sydenham are helping people who are facing disadvantage and homelessness.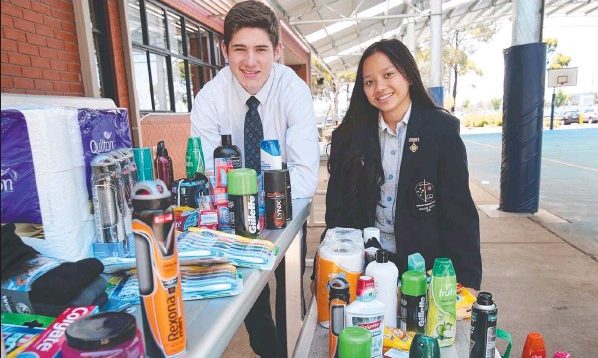 25 February 2016
Catholic Regional College 2016 captains Jared Webb and Christine Jobli with some of the items collected by the students for donation to VincentCare Victoria.
Throughout the year students have been donating to VincentCare Victoria.
They also regularly volunteer to serve dinner at VincentCare's Ozanam House in North Melbourne, which provides accommodation to men experiencing homelessness.
The dedicated youngsters have also raised money for staff to buy necessary items for "entry and exit" packs which are given out to tenants.
Last Thursday students from the college delivered some of the packs to VincentCare.
VincentCare chief executive John Blewonski said it was great to have the support of students from Catholic Regional College and other schools.
Mr Blewonski said in addition to the help VincentCare received from the teenagers, it was important for them to learn about poverty, unemployment and disadvantage.
He said it was not only homeless people who struggled to make ends meet, but also "the working poor" – people who had a job but struggled to pay their mortgage or rent due to a lack of affordable housing in Melbourne.
"That then starts impacting on their health with the constant questioning: 'Am I going to lose my house?', 'Do I have to make a choice between feeding my kids or paying the mortgage?'" Mr Blewonski said.
He said at Christmas this could be amplified when parents could not afford to buy presents for children.
"If we can help out with a food hamper or a toy for the kids, then that it one less pressure they have to worry about," he said.
The Brimbank Leader