Latest news
National Volunteer Week 2020
It's National Volunteer Week from Monday 18 May to Sunday 24 May 2020 and we want to introduce you to some of our volunteers.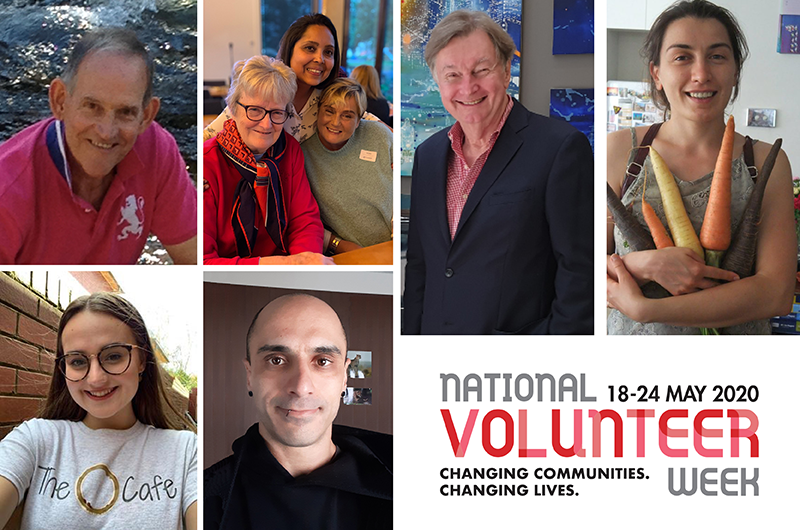 01 May 2020
National Volunteer Week is an annual celebration to acknowledge the generous contribution of our nation's volunteers.
This year, National Volunteer Week takes place from Monday 18 May to Sunday 24 May 2020. The theme is "Changing Communities. Changing Lives".
You can find out more about National Volunteer Week 2020 here: www.volunteeringaustralia.org/get-involved/nvw/
VincentCare volunteers are essential to the work we do, playing an active and selfless role in supporting programs, activities and events during the year. This includes: participants in our Client Volunteer Program; community volunteers; corporate volunteers; and secondary school volunteers.
Our volunteers come from all walks of life and each bring something different in terms of skills and knowledge, from welcome and engagement volunteers to catering assistants; drivers to hairdressers.
This National Volunteer Day, we want to profile some of our amazing volunteers.
John
What made you decide to volunteer?
I have always appreciated the value that volunteers play across our community. In fact during my professional life, I helped to set up Victoria's Volunteer Health Awards for the Victorian government, which celebrate volunteers working across our healthcare system. My grandmother was a 'pink lady' at St Vincent's hospital and volunteered well into her 70s. Once I was in a position to volunteer, I looked forward to playing a role somewhere.
Why did you choose VincentCare?
I found myself in my late forties at a crossroad. I needed to focus on my health and create a new plan for life after hitting some really difficult challenges. VincentCare was there for me when I was at my most vulnerable, and provided life changing support. So when I was ready to volunteer VincentCare choose me!
VincentCare offers an incredible program for volunteers. I work with amazing people, in a beautiful environment and we can connect directly with VincentCare clients. The volunteers receive amazing support from the program staff.
What do you like about volunteering at VincentCare?
I'm a huge fan of volunteering at VincentCare. With Lauren, the volunteers are in good hands. She is incredible at bringing out the best in us. I recently encouraged a mate to join the Volunteer program, and it has been a highlight to watch him blossom during his time at VincentCare.
When you volunteer here, you join a special family. There is amazing support, camaraderie and deep connection with other volunteers, and our focus is providing the best possible services for people who are homeless or at risk of being homeless. Clients are treated with dignity and respect everyday and it's a privilege to be part of a service that practices these values.
Ruby
It was my grandfather who first inspired me to volunteer at VincentCare.
In time, I saw the incredible support that is provided and wanted to continue to be a part of an organisation who has established such a welcoming and nurturing community.
I enjoy working alongside smart, funny and remarkably kind-hearted people, as well as sharing a friendly smile and hello with all who come to the O'Cafe.
Frank
I decided to enquire about volunteering at Ozanam House after hearing that my daughter, granddaughter and son-in-law were volunteering there. I spoke with them about what they were doing and who were the people they were helping. I thought that if they could do this in their busy lives, why couldn't I do it, since I had recently retired. Thinking about this and wanting to give back to those that are experiencing difficult times, I made the move and the rest is now history.
My role is primarily Material Aids, and the breakfast shift on Mondays, however I have been fortunate enough to have done a variety of roles.
The one that stays with me and I'm grateful for is being able to work with some great blokes, the 'Client Volunteers'. These blokes have experienced some tough times and it would have been easy to chuck in the towel. Instead they worked through the difficult times and are now giving back. That I think is fantastic. That they were able to share with me their stories was a privilege. I'm sure it wasn't an easy road for them, but with the assistance of the Ozanam staff they are now giving it their best shot. Well done fellas.
Jacinta
My name is Jacinta Cantwell and when I was around the age of 13 my family drove past Ozanam House one evening, and my mother turned her head and said to us kids in the back seat "look at those poor men they have no home and no money to buy food, do you kids know how lucky you are?"
I am sure back then she didn't realise the impact that question had on me, but I knew then and there that I wanted to help those people, at that's why I choose to volunteer at Vincent Care.
I have volunteered for just on 20 years now in different roles, at the old Community Centre, reception at the old Ozanam House and now in admin. I look forward to the socialisation every week and I hope that in some small way I can help our clients.
William
Becoming a volunteer is a fairly recent development for me and is something I decided to do after a period of being out of work and having some time and energy to spare I thought it would be a good way to reconnect.
VincentCare was an obvious choice for me as I had been a client for a while and I wanted to be part of an organisation that I knew first hand made a real difference to people in need.
What I enjoy about volunteering at VincentCare is the friendly and supportive environment, meeting and connecting with the local community and feeling that I have some purpose and a sense of value. Also while at VincentCare I have had the opportunity to learn new skills like the barista course and improve existing ones such as computer literacy.
Susan
What made you decide to volunteer?
To meet and work with others. For bingo and other social activities and to get to know more people, which is something I love doing.
Why did you choose VincentCare?
Better security, friendly staff and a welcoming environment.
What do you like about volunteering at VincentCare?
Mixing with people. Bingo. I love the people and I like helping out. It makes me feel good. I like the concept of it all, I feel good about myself.
Robert
Volunteer at Ozanam House, our accommodation and homelessness resource centre in North Melbourne.
What made you decide to volunteer?
Having known Ozanam House for many years when the new location was opened it was a natural fit with our neighbourhood. Homelessness is approached brilliantly by Ozanam House and I wanted to be part of it.
Why did you choose VincentCare?
The great work done and the sheer enthusiasm of their staff. The facility is great and it is important to have the various levels of accommodation to focus on different reasons for being homeless. Such an inclusive organisation with some great personalities among the clients!
What do you like about volunteering at VincentCare?
The fact that I can make a bit of a difference and understand different people's needs. We should all experience different ways we can help our fellow Victorians. Volunteering on Friday nights is one of the busier nights and it is great to help make clients welcome over a great dinner!
Robyn
What made you decide to volunteer?
I had the time, had retired from work, and was looking for some volunteer work to fill in extra time. I enjoy meeting people from all walks of life, learning and making friends with the other volunteers.
Why did you choose VincentCare?
I chose VincentCare because I had two friends working there at the time, one Betty and hubby Pete, and they both still work at St. Vincents. Also a dearly departed friend, Val, mentioned St. Vinnies were always looking for volunteers so thought I would give it a go. I must admit I thought I would be with either one or both of them at first, but it didn't matter at all in the end.
What do you like about volunteering at VincentCare?
I thoroughly enjoy working with, meeting and talking to the clients. They ground me and in many ways are my inspiration; they are such brave people. I'm in awe of many of the clients and what they have been through or are still going through. Without family support or housing it must be so much more difficult. Life is tough enough with family support and a roof over your head. As I said before, they are very brave souls. Finally, I enjoy meeting and talking to the staff who always put the volunteers at the top of their list as far as care and safety.
Jimmy
I am a volunteer at VincentCare Victoria, Ozanam House North Melbourne as part of the Client Volunteer Program. I am currently studying at Royal Melbourne Institute of Technology (RMIT).
I have always found that helping others was a joyous experience. Volunteering was a way for me to give back to the community for the support and guidance I had received when I reached a low point in my life. The opportunity for me to make a difference in the community contemporaneous while studying, has had a positive impact on me to grow personally and to further build relationships.
I had reached a point in my life where I felt overwhelmed by fear, as I had no place to call home or feel safe. This is where VincentCare provided a safe and supported environment for me to find myself again and assisted me in reaching my goals! To feel so supported throughout my journey while suffering from adverse mental health issues was remarkable.
The most rewarding part of volunteering at VincentCare is that it gives me a sense of purpose in life! Amongst being able to help people I get to enjoy the pleasure of meeting people from different backgrounds and sharing new ideas!
Katy
What made you decide to volunteer?
I have been volunteering since university times. I believe that everyone should have equal chances in life and if the world does not give everyone equal opportunities, people should do something about it. You can help people one on one, but if you are not feeling that it brings as much change as you wish, then volunteering can be the next step. A group of people together usually will be able to achieve more than a person alone.
Why did you choose VincentCare?
It was a lucky coincidence. I was looking for a student placement and saw an advertisement on the Council's website about volunteering at VincentCare. I decided to get in touch and ask about a possibility to do the placement. I couldn't get the placement, but I thought that volunteering would be an equally great opportunity. And it turned out to be a really good and rewarding experience. I tried to volunteer at some other places in Australia before, but I didn't feel that those were the right places for me. I guess here I always felt that my time and efforts were used efficiently, that my help was needed and I could also be creative in what I do.
What advice would you give to someone considering becoming a volunteer?
My advice will be to find the right place. There are many good places to volunteer, but any good place is not necessarily the right place for you. It is important to find the place that you want to come back to and that makes you happy.
Andrew
What made you decide to volunteer?
Gives me the chance to get the benefits of work without the pressure. Interacting feeling a part of a team. Giving back to a place that gave me so much and has been a big part of my own personal journey. Building healthy relationships.
Why did you choose VincentCare?
Have a connection to Ozanam House after living there for close to 12 months. Great staff and other volunteers whom I connect well with.
What do you like about volunteering at VincentCare?
Feels great to be a part of helping those who are going through a rough time. Seeing friendly welcoming faces. Opportunity to upskill, i.e. the CVP program where I completed a certificate to become a qualified barista. Really more than anything love the CVP family we have is a great caring driven bunch of people.
Trace
Volunteer at O Cafe, Homelessness Resource Centre.
What made you decide to volunteer?
I'm a passionate person and want to give back to my community.
Why did you choose VincentCare?
Because I love the heart and soul that is there and everybody cares a great deal.
What do you like about volunteering at VincentCare?
The sense of family and the feeling of belonging and love trying new adventures that both gives and receives and the experiences too.
Rowan
What made you decide to volunteer?
To give back to the community and meet new people.
Why did you choose VincentCare?
Because I heard they were an excellent organisation.
What do you like about volunteering at VincentCare?
Meeting new people (other volunteers and clients) and also learning new and exciting tasks.