Services
Homelessness statistics
People experiencing homelessness are usually thought of as not having a roof over their head but the reality is much more complex than that.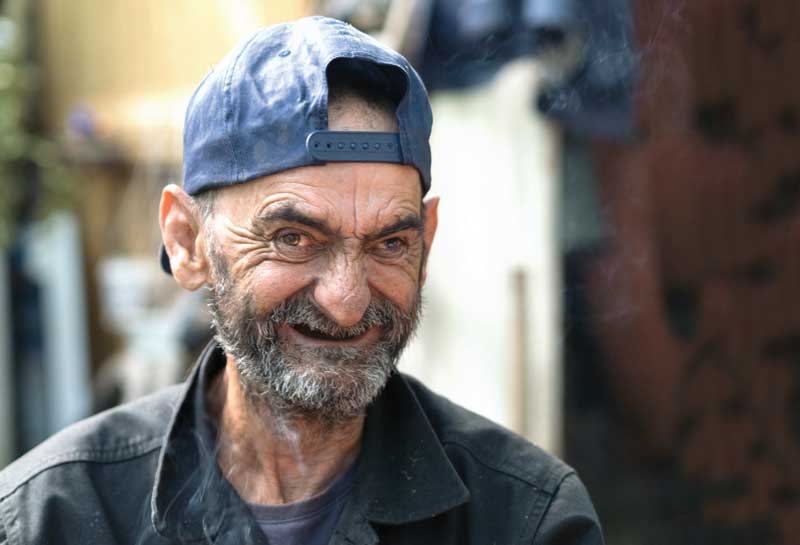 What is homelessness?
A person is considered homeless when they do not have suitable accommodation alternatives or if their current living arrangement:
is in a dwelling that is inadequate; or
has no tenure, or if their initial tenure is short and not extendable; or
does not allow them to have control of, and access to space for social relations.
Homelessness comes in many forms and is categorised into primary, secondary and tertiary levels.
Primary: This is what most people think of when they think about homelessness. It includes people who are sleeping rough (on the streets or out in the open) and those living in improvised dwellings such as tents, cars, swags or temporary shelters.
Secondary: People who are constantly on the move fall into this category and can include living in emergency accommodation such as refuges and hotels as well as couch surfing – staying at family or friends' homes for a few days, usually without their own space.
Tertiary: Staying in caravan parks or legal and illegal boarding or rooming houses is considered a tertiary form of homelessness as they fall below minimum community standards for living.
Who can become homeless?
It may sound surprising but these days almost anyone can become homeless.
On any given night in Australia, 1 in 200 people are homeless. In fact, you might know someone who is struggling at the moment. Homelessness is now recognised to be more than just someone living on the street and includes severe overcrowding at home and couch surfing.
What causes homelessness?
The causes of homelessness are as complex and varied as the people that it affects and sometimes there are a combination of reasons for what has gone wrong.
In Victoria alone, there are 35,000 people on the waiting list for public housing, with 10,000 of those applications for early housing. People are waiting anywhere from two to 10 years on the general list and up to three years for emergency shelter. Public housing stocks have been dwindling which is putting increasing pressure on the public housing wait list as well. The country-wide property sales boom has pushed people who would have been able to afford their own property 10 years ago back into the rental market. This also means that people on lower incomes are having to move further out of the city as rents increase and affordable properties become scarce. However, infrastructure can be slow to catch up so these people are spending increasing time and money to be able to access cheaper food and the jobs market.
Research has shown that moving house can average out at almost $3500 and with one third of Australian households having less than $1000 in cash savings, this can cause a lot of stress. Gentrification of the traditionally lower priced inner city suburbs has also not helped. In addition, it could be argued that the rental market is skewed in favour of the landlord and not the tenants, so issues such as leasing tenure and being unaware of tenant rights can lead to unnecessary instability.
While someone may have a roof over their head, they can still be classed as homeless if it is inadequate or inappropriate. There are a few different scenarios for this including:
Severe overcrowding where there are too many people living in one household with a lack of privacy and space for social engagement. An example of this would be an extended family of two parents, their six children ranging in ages from new born through to 24 years (who also has a live in partner), a grandparent, and a set of aunts all living in a small three bedroom house with a combined kitchen/living room and one bathroom and toilet area.
A home that is too large or expensive for the occupant. Take for example a new widow who is unable to keep up with the mortgage payments or rent and doesn't want to share with anyone in what was the family home.
Run down housing that is in poor condition is also a risk factor. Imagine a single parent with two young children living in a house where the water flow is intermittent, the heating and cooling only works for 10 minutes at a time, the electricity is faulty, there is a mould growing on the walls and the landlord refuses to fix any of it. The mould and drafts are keeping the children sick which means a constant supply of expensive medications and it's hard to keep up with cleaning when the water cuts out.
More than a quarter of the people attending specialist housing and homelessness services are fleeing from domestic and family violence, many with children in tow and often with only the clothes on their backs. Overwhelmingly, these people are women. When a woman is forced to leave her home, she doesn't usually return and so forfeits anything that remains there. Due to the financial abuse and isolation that can accompany the violence, she may not have access to money or have been allowed to have a job, severely limiting her ability for independence.
Household debt keeps rising and more families are living from one pay cheque to the next. Unexpected expenses such as the car breaking down and higher than usual utility bills can stretch the monthly budget beyond breaking point. Illness and injury can also threaten income if it is not covered by Workcover, insurance or if the worker is on casual entitlements. One third of Australian households have less than $1000 in cash savings so any of these things can easily be the difference between having a roof over your head or becoming caught up in rent arrears. 
The breakdown of a relationship has implications on housing stability as well as on emotional wellbeing. When one partner leaves, they may take with them the bulk of the household income or assets such as a car or whitegoods. All of this this can affect the ability of the remaining partner to be able to keep up with rent or utility payments, putting them in danger of becoming homeless.
Older women are increasingly being assisted at specialist housing and homelessness services. The reasons for this include relationship breakdown or the death of a partner, leaving them with debt and a decreased income. The reality is that women generally have much less superannuation to draw on thanks to the pay gap between men and women. Women who take time out of the workforce or who work part time due to child rearing can look forward a large drop in their super savings as well.
LGBTIQ face an increased risk of homelessness simply for being who they are. Young people in this category are particularly vulnerable as they generally rely on their parents or guardians for shelter, food, education and support. If they have a family network that is not supportive of their identity, leaving home can sometimes be more bearable than staying. This group is also especially susceptible to mental health conditions as they struggle with issues of identity, support and societal confines. 
Unexpected illness can affect those living from pay cheque to pay cheque. Take, for example, the casual construction worker who damages their knee at home. No longer able to do the physical work required, not covered by insurance, and with limited skills, their income has suddenly stopped and there are mounting medical bills as well as back rent. Which gets paid first?
Those who have suffered trauma, particularly during childhood, are at a higher risk of experiencing homelessness. This is also the case for people who have experienced historic governmental institutionalisation and those leaving state care. Acquired brain injuries through domestic and family violence, accidents or prolonged substance use can also exacerbate the challenges of daily living and can result in the loss of work or stable accommodation.
People experiencing mental illness are overrepresented in the homelessness population as well as being at a higher risk for becoming homeless. Mental illness can make it difficult for people hold down jobs or attend appointments which can in turn affect their income. It can also be hard to do the things that others take for granted such as remembering to pay bills or keeping aside money for rent.
Mental illness and substance misuse frequently go hand in hand. It may be that the person is using substances to self-medicate or that misuse has led to a new or exacerbated illness. Often both mental illness and addiction can feed into each other making general living challenging.
Another factor affecting homelessness that can result from both mental illness and substance misuse, but may also affect the general population, is a lack of support. Strong, healthy and varied support networks offer assistance in times of need. It is easy to see that if your networks are small or unreliable, there are less people to rely on when you need a helping hand. Smaller families and the dwindling sense of community and neighbourhood can leave people on their own and isolation can also lead to mental health issues and the same challenges mentioned above. 
What is a specialist homelessness service?
Specialist homelessness services, like VincentCare, are funded by the state and federal governments. They support people experiencing homelessness and those who are in crisis situations or at risk of experiencing homelessness. They provide support services and help to find stable accommodation.
This support can include:
Providing food vouchers, transport assistance, clothing or furniture
Paying for medication and treatment
Giving information and advice
Finding crisis accommodation
Making referrals to other specialised services
Advocating to other services on the client's behalf
Helping to make applications for housing
Making payments for rent arrears, rent in advance or rental subsidies
Assist with the client's education or employment goals
Being the contact point for all the services a client needs
Statistics for Victoria*
Ages of people currently experiencing homelessness:
Under 12 – 14%
12-18 – 8%
19-24 – 18%
25-34 – 22%
35-44 – 14%
45-54 – 12%
55-64 – 7%
65-74 – 4%
75 and over – 2%
What sex are they?
What is their Aboriginal and Torres Strait Islander status?
Aboriginal and/or Torres Strait Islander – 3%
Non-Indigenous – 82%
Not stated – 15%
Where they are staying?
Improvised dwellings (shelters, tents, sleeping rough, cars) – 5%
Supported accommodation for the homeless (refuges) – 29%
Staying temporarily with other households (couch surfing) – 12%
Boarding and rooming house (legal and illegal) – 18%
Severely overcrowded dwellings – 36%
*Source: Australian Bureau of Statistics, 2049.0 – Census of Population and Housing: Estimating homelessness, 2016