Latest news
VincentCare's major response to homelessness reaches new heights
VincentCare's Ozanam House Redevelopment Project reached new heights on Friday 1 June when Chief Executive Officer, John Blewonski, hosted our major partners and stakeholders for a site tour and 'Topping Out ceremony'.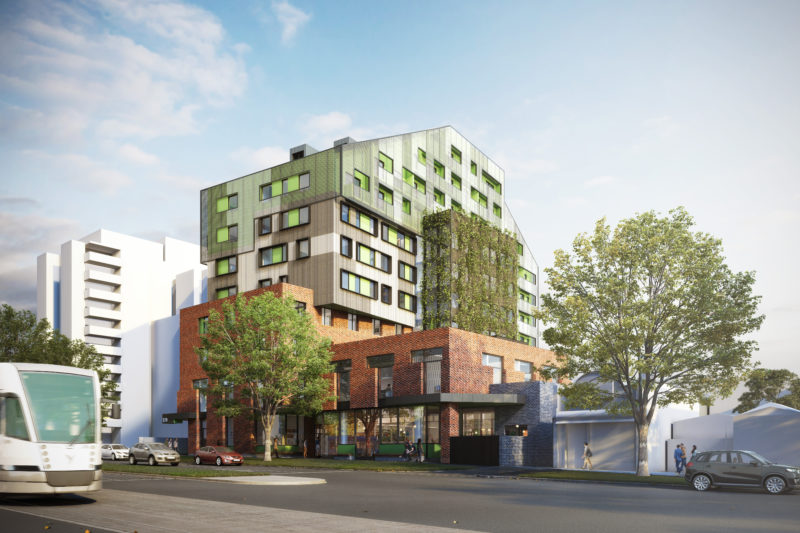 21 September 2018
When complete, the new Ozanam House and Homeless Resource Centre will be the first of its kind in Australia to offer wrap-around services that focus on engagement, reconnection and recovery.
The 10 level development will provide three floors of long-term independent living units for over 55's who have experienced chronic homelessness; three floors of transitional accommodation for clients overcoming  addiction, mental health issues or family violence, and three floors of crisis accommodation for those desperate to make the transition from homelessness and rough sleeping.
Most importantly, the ground floor Homeless Resource Centre will offer an incredible range of support services for an estimated 250 daily visitors. These include meals and showers, a full time GP and Dentist, music and art therapy and an IT hub.  In addition, there will be an onsite café operating as a Social Enterprise and a commercial grade kitchen in the basement which will cater for the café, as well as meals for VincentCare's Home Care Package clients and other disadvantaged Melbournians.
"This project began over four years ago and we are extremely proud to be the drivers behind one of the biggest investments in homelessness in recent history" – John Blewonski, Chief Executive Officer
The project has been made possible with financial support from the Victorian Government, and major grants from the Lord Mayors Charitable Fund, Gandel Philanthropy and Perpetual . We are also grateful for the support of Energy Australia who are donating heating and cooling units for the entire development.