Latest news
VincentCare wins 2020 GLOBE Community Award
VincentCare has won the 'Improving Health and Wellbeing for LGBTIQ Peoples' award at the 2020 Globe Community Awards.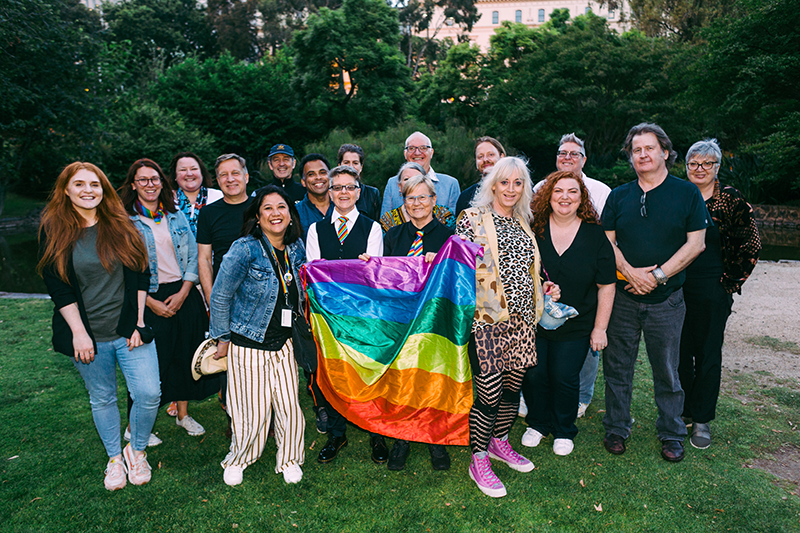 07 December 2020
VincentCare provides safe and supportive services for LGBTIQ+ peoples who are at risk of or experiencing homelessness.
VincentCare staff and guests, including Victorian Commissioner of Gender and Sexuality, Ro Allen, gathered at a park in Melbourne for a COVID safe small event on Friday 4 December 2020 to live stream the 2020 Globe Community awards.
VincentCare is honoured to receive the 'Improving Health and Wellbeing for LGBTIQ Peoples' award for its work at Ozanam House and the Homelessness Resource Centre.
---
Watch our 2020 GLOBE Community Awards video nomination
---
In 2019, VincentCare launched a comprehensive review of its sites, systems, programs and practices to identify how best to support LGBTIQ+ clients and maximise their housing outcomes. Acting on that review has resulted in Rainbow Tick Accreditation, leadership in the sector, an increase in referrals of LGBTIQ+ clients from other organisations and positive feedback from clients.
VincentCare wishes to congratulate the two other finalists in this category – Fearless Movement Collective and Thorne Harbour Health COVID-19 Response.
---
Watch a message of thanks to the LGBTIQ+ community from VincentCare CEO Quinn Pawson
---
The GLOBE Community Awards celebrate achievement in Victoria's Lesbian, Gay, Bisexual, Transgender and Intersex communities, highlighting the work of a diverse range of organisations and individuals that benefit and unite the Victorian LGBTIQ community.
---
Messages of support to VincentCare from the LGBTIQ+ community
Dr Catherine Barrett
Sally Conning
Kathy
LGBTIQ+ Elder Max Primmer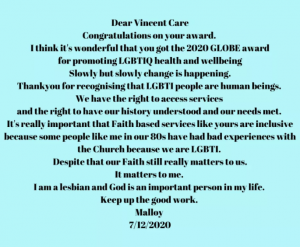 Malloy Rolfe
---
View photos from VincentCare's GLOBE event