Latest news
VincentCare named Community Organisation of the Year
VincentCare Victoria has won the Quality Innovation Performance (QIP) Community Organistation of the Year Award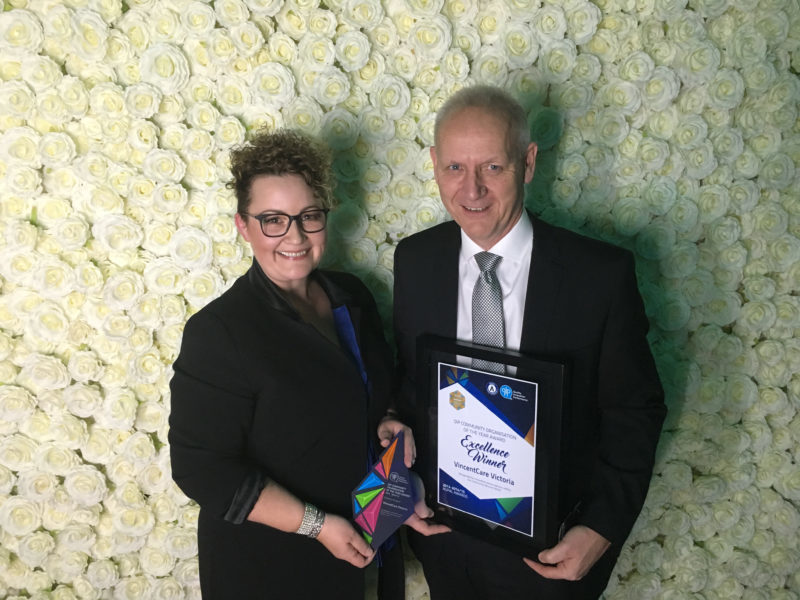 02 June 2016
This national award demonstrates that VincentCare is a leader in the delivery of quality services to people who experience homelessness and disadvantage. Across Australia there are community organisations making a daily commitment to providing high quality care and/or services to members of their local communities. Quality Innovation Performance (QIP) acknowledges and appreciates the dedication and continuing effort of these organisations toward quality improvement. In early May 2016, QIP announced the finalists of the QIP Excellence Awards.
Dr Stephen Clark, Group Chief Executive of QIP, said that QIP received a number of outstanding nominations from QIP accredited organisations.
"The QIP Organisation of the Year Award recognises and rewards the commitment that these organisations make to quality improvement within a community setting. I was privileged to gain a unique insight into the inspiring achievements taking place within the community environment. I thank all those organisations who shared their inspiring and innovative stories of quality improvement. Congratulations to VincentCare for being selected as a finalist under the award sub-category Innovative service delivery within the Community Services Sector," Dr Clark said.
To be selected as a finalist, VincentCare had to submit a nomination form self-assessing against key criteria. The judging process was vigorous with a large number of nominations received resulting in the creation of two sub-categories to recognise Innovative service delivery within the Community Services Sector and Excellence in partnerships, with an emphasis on diversity and inclusive practice, within the Community Services Sector.
With over twenty five years' of history and experience within the community sector, QIP is one of Australia's most comprehensive health, community and human services accreditation providers. As a not-for-profit organisation, QIP is dedicated to delivering accreditation services and supporting community organisations on their journey of continuous quality improvement.