Latest news
Urban agriculture and sustainability
Throughout history, gardens and outdoor spaces have been used to create calm and tranquil environments. Access to natural surroundings – especially in city or urban environments – encourages people to spend time outdoors. This is an organic way to increase immunity; boost mood; improve emotional health and reduce the symptoms of depression.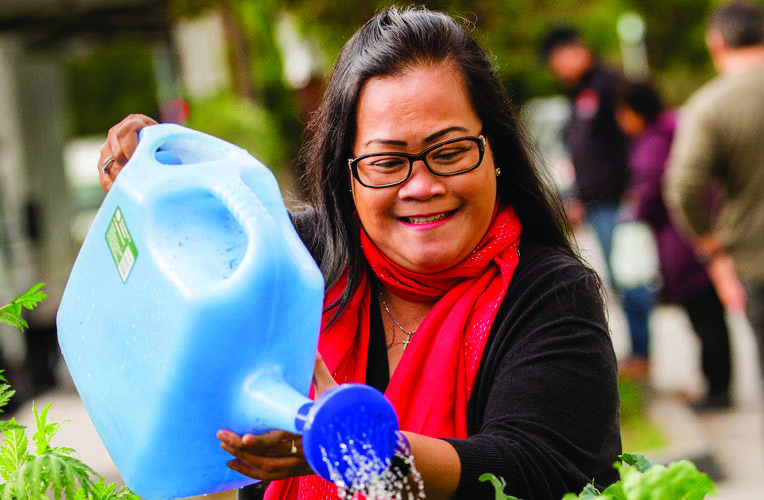 19 November 2018
For people who are experiencing homelessness or disadvantage, spending time in the outdoors can improve their health and wellbeing, and help them reconnect with society and the world around them.
VincentCare's community garden is located in an industrial strip in North Melbourne and is thriving. Established within the principles of urban agriculture and sustainability, excess scraps and soil are mulched and reused for planting new crops. This different way of planting has resulted in an abundance of continuous produce, as well as reducing inputs and eliminating the need for pest control.
"For people involved with the garden, it's built confidence, knowledge and skill exchange while cultivating self-empowerment and highlighting the importance of sustainable and healthy living," said Pandeli Laskeris, Senior Participation Activity Group worker.
Teresita is an advocate for the benefits that green spaces can bring. When she came to VincentCare, she was in ill health, and on the verge of becoming homeless. VincentCare helped her to find affordable housing and invited her to participate in the garden project.
"I've been involved with the garden for almost two years now. Going there gives me great happiness. Depression and illness isolates you, but knowing that the plants need watering, and that your friends are there, it gives you purpose and motivation.
"Being outdoors is a form of therapy for many of us. It helps with stress relief, mobility and weight loss – all the digging and moving around. Plus the fresh air and sun improves your mood."
Those involved with the project speak highly of the social, health and recreational benefits they receive from the garden. For Teresita, involvement has been positively transformational.
"The garden is the best thing that's happened to me since I got sick. It helps me to be strong and confident, and I've made friendships. There is a lot of variety in the garden crops and we all pick produce to take home and make healthy meals for ourselves.
"I visit two to three times a week to water and weed the plants. Sometimes I go with the group, sometimes it's just me and my green tea. On those days, I just sit, breathe the fresh air and enjoy the peace and tranquility."
The community garden project is just one of the ways that VincentCare is embracing the benefits of the environment and well-planned outdoor spaces in recovery. The Hub and Resource Centre will be capturing similar elements in its outdoor and landscape design.