Latest news
Ozanam House Pilot Program - a change to service delivery
Written by Cynthia Castro-Martinez, VincentCare Senior Worker, Case Management and Ian Gartlan, Engagement Team Leader, Ozanam House, VincentCare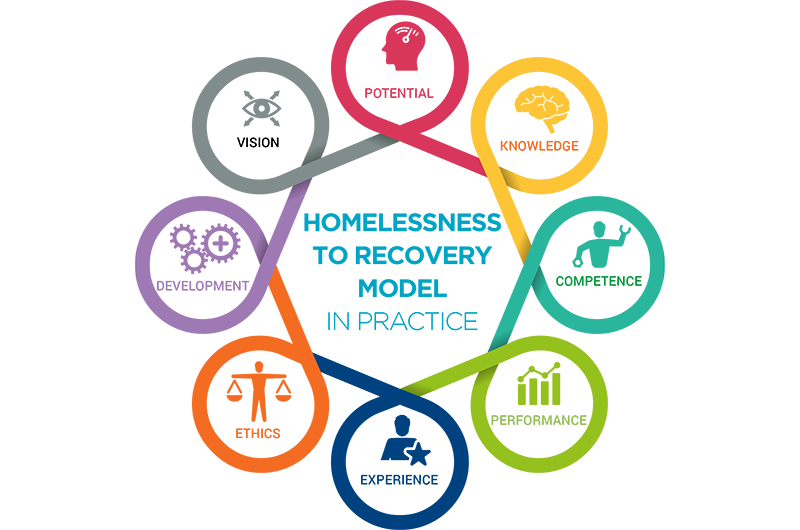 10 April 2019
In 2017, Ozanam House, a crisis accommodation facility for adult males, undertook a forward-thinking change to service delivery. This change proposed a move away from the traditional crisis accommodation model of crisis response to an assertive engagement model delivering client-centred, trauma-informed and strengths-based supports. These changes were delivered and refined as a pilot program, negotiated with the Department of Health and Human Services, as a result of ongoing review of service delivery practices and client outcomes. The focus of the pilot was to create opportunities for clients to be more able to address the issues they identified as contributing to their experience of homelessness, through targeted participation and engagement activities underpinned by VincentCare's Homelessness to Recovery Model.
The Homelessness to Recovery Model comprises the following:
The Client Engagement Framework which ensures that staff have appropriate skills and knowledge to minimise service refusal, address access barriers and reduce service attrition, through assertive engagement.
The Client Coordination System which includes consistent and thorough screening and assessment, and efficient internal and external service coordination, ensuring that each client can access a timely and informed response.
Case Management which integrates with the Client Coordination System to harness person-centred, strengths-based and trauma-informed care. An achievable, sustainable and self-directed plan is customised with a focus on reconnection and recovery.
The Client Participation Framework which outlines a range of opportunities that build recovery capital, informing service delivery and decision making.
The three teams of Case Management, Engagement and Intake were brought together, along with the Brief Intervention Program (on-site AOD workers) and the on-site Bolton Clarke nurse, to create the Ozanam House team. Functioning as one team with various specialisations, staff worked collaboratively to empower progress in the client's journey towards recovery.
Critical to the success of the pilot was the participation of this team in reflective practice, to discuss and review old processes and to bring them in line with the Homelessness to Recovery Model and to trial new procedures as required.
An Ozanam House perspective – the client journey
Referral and intake
Clients referred to Ozanam House receive an assessment and are given information about the service from the Ozanam House intake worker. This engagement starts the process of rapport building, identifying the client's needs and support goals, and encouraging a sense of hope for their work on their challenges. Client rights and responsibilities are explained, along with the expectations of the service, the intensity of support provided and what Ozanam House programs can offer the client; this includes the possibility of outreach support during referral.
Approximately mid-way through the pilot, clients started contacting the intake worker, to self-refer, one telling her that they:
"Had heard that there had been good changes at the House, that a friend had received good support there, and that they would like a chance to come and stay".
A streaming tool was introduced to identify the appropriate level of support for each client. This tool also allows staff to summarise the client's complexities and to record the progress made during their support period. This process also informs the client's projected length of stay.
At intake the information provided during referral is revisited by the Engagement Team. Clients are often tired and stressed on arrival, so a group meeting was incorporated to review and clarify important information at the end of each week; clients are required to attend this meeting at least once.
Engagement Team
The Accommodation Team, which was reframed to become an Engagement Team and works shifts spanning from 7.30 am to 11.15pm, assertively engages with clients and has a greater presence within the house running activities and supporting participation. Activities such as bingo, art and a walking group are both therapeutic and form a distraction from the issues undermining clients' lives; they also have the capacity to remind clients of a period when they had more agency in their lives.
The Engagement Team meets daily with the Case Management team to review the dynamics in the house and any recent critical incidents or concerning presentations. As a result, specific recommendations may be set to guide daily intake to ensure the house remains at a safe and secure level for clients to be supported.
A key initiative of the pilot was the commencement of a curfew from 11pm to 7.30am, staffed with the contracting of service-focused security officers during these hours. Feedback from clients has been that the curfew has reduced noise through the night and facilitated sleeping and less disturbances – something that was reported within the old model of crisis accommodation.
Assertive engagement and the activities have been effective with clients, demonstrated by an increase in both client engagement and demonstration of trust with staff. The clients have a stronger sense of ownership and of community in the house. Clients are holding each other accountable, in a respectful manner, for their cleanliness in shared spaces and for their behaviours within their community.
Clients have approached staff after taking part in one of the Engagement Activities, and one commented:
"I've stayed here a number of times, last night I had the best night I've ever spent here, you couldn't have run that activity in the old house."
Small groups have also formed out of some activities, with clients giving each other support and encouragement, as well as a general reduction in conflict and critical incidents within the house.
Case Management team
Case Managers meet with each client residing at Ozanam House four times a week. The focus of these meetings is to develop a plan and work on a wide-range of issues including housing with the goal to stabilise each person within the community that they would exit into.
Two formal and two informal meetings per week are conducted with each client, implementing trauma-informed and strengths-based support to address client needs. The intensive level of support assists to extend rapport with clients and tailor individual case plans accordingly. A holistic response builds a foundation for their recovery from homelessness and integration back into the community.
Staff network extensively with organisations to create and extend program partnerships and appropriate pathways that support clients in their recovery from homelessness and become active in their communities and reduce social isolation.
Staff reported enjoying working in the pilot and assisting to produce the goals that the pilot was achieving.
"Many of the residents at Ozanam House experienced great outcomes during their involvement in the Pilot Program including engaging with support services, attending activities in the house, accessing housing, building living skills and much, much more. I enjoyed working with clients more intensively and it was obvious this approach had a positive effect for many of the service users." Andrew Brook Case Manager

"Being a Key Worker at Ozanam House is not just about housing. It is a privilege to listen to such interesting life stories. To be entrusted with such deeply personal information and life histories can sometimes be challenging but is always a fascinating process. To allow a person an opportunity to develop trust again and be given an opportunity to make significant life and personal change is truly a wonderful thing to be both part of and to witness happening. It is also a deeply satisfying experience." Joe Dejdar Case Manager
Outcomes
During the pilot an in-house anonymous survey was conducted and a service evaluation was undertaken by Melbourne University, and these assessments demonstrated that service delivery was more effective than pre-pilot service delivery over the period 2012 – 2017 in a range of areas, including:
An increased sense of safety and belonging declared by clients within the community of the house;
An increase of 40% in case with all or most goals achieved;
A significant decrease in short service episodes with 11% of clients staying for one week or less during the pilot program;
An approximate 70% reduction in the number of Critical incidents; and
An increased sense of job satisfaction declared by staff, along with a sense of rejuvenation and statements that they feel as though they have new jobs.
In adopting a model of Assertive Engagement and supporting frameworks of Person-Centred, Trauma-Informed, and Strengths-Based practice at Ozanam House, a greater number of stronger outcomes are being created with clients. The Ozanam House team continues to build on the pilot taking on board client feedback and requests for specific changes.  Prior to the pilot there were two times as many unplanned exits as there were planned exits. One of the most significant outcomes from the pilot is that planned exits are substantially increased and unplanned exits are greatly decreased, with the numbers for most months being equal. The intake worker strengthening engagement with clients during the referral process has meant that clients are better prepared to engage with supports after intake.  As a result of the pilot, engagement by the clients with staff and each other has markedly improved, and there is a much greater sense of ownership by the clients in their living environment and the case plans that they have made with their case managers.
During the pilot evaluation a client commented:
"The best thing about this place for me, they've given me honesty and truth and support. As they've told me, if I want to get better I have to be honest with myself and grow and do different things, put positive things in my life and that's what I've done."
The atmosphere and culture following the pilot is a distinct improvement. The pilot was a great success and is being embedded as part of VincentCare's redeveloped Ozanam House site.
Originally published in the March 2019 edition of Parity, the national magazine for Council to Homeless Persons.