Latest news
Living at Ozanam House: an insight into life and care
Our facilities have been designed to accommodate a diverse range of homeless people, wherever they are on their journey to recovery.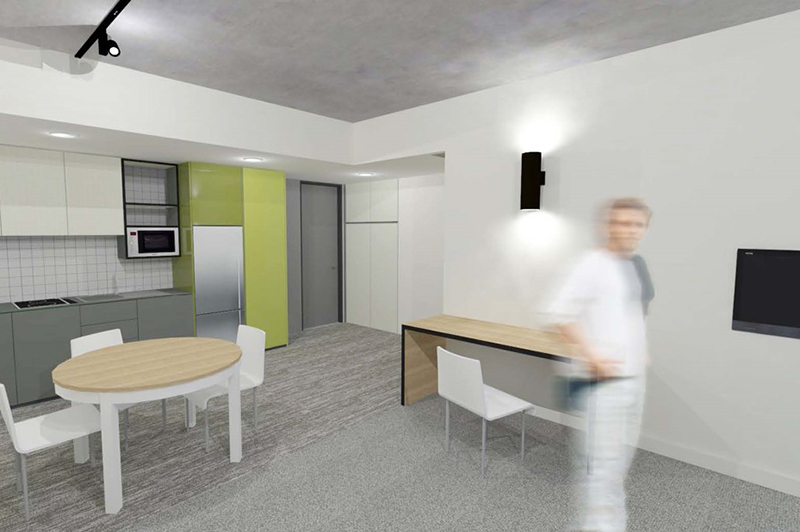 05 March 2019
This will include the provision of 134 accommodation rooms in total – responding to short, medium to long-term housing and wrap-around support needs.
Crisis accommodation
The new Hub includes 60 crisis accommodation units, providing clients with comfortable, clean and safe accommodations with 24-hour access. A small number of VincentCare staff will be present onsite at all times to provide support – particularly where a sudden or emergent need arises.
These rooms are separate to our medium and long-term dwellings. A person living in these facilities can expect a room with fixed furnishings that enables them to gain a good night's sleep, take care of hygiene needs in an ensuite bathroom, and feel a sense of security and privacy. Crisis clients will be provided with three meals a day, offered through community dining for breakfast, lunch, and dinner. There will be access to several dedicated communal areas including: a laundry; bike storage; and communal lounge on each floor with good light, ventilation and cleanliness, offering couches, chairs, tables and a television. Safety and support is assured by secure staff stations on each floor and CCTV and security features.
There are many things we consider in matching a client with the facilities and care they need. This includes how the person became homeless, the level of family support they have, and how long they have been homeless. For many people who have been sleeping rough, or who may be escaping crisis situations, such as a sudden loss of accommodation, or leaving behind domestic violence, these rooms provide an immediate response to meet basic needs.
Clients will stay in these crisis rooms for between four to 12 weeks, depending on the plan that has been customised to address their ongoing needs and to connect them with resources.
Homeless clients admitted to crisis accommodation facilities do not 'go it alone' with a simple room for board. They will receive client-centred, case managed support at each step. Where possible, VincentCare will help these clients to reconnect with trusted family or previous lodgings, or to find them accommodations they can move on to, so that they do not end up on the streets or in an unsafe situation. If longer-term accommodations are required, these clients may transition to our medium-stay facilities.
Crisis rooms are just one vital element of the holistic community response that this new accommodation hub and resource centre provides.
Medium-term accommodation
Depending on individual circumstances, clients may find the need to transition from crisis care or other external situations to medium-stay accommodation. These rooms will complement a Recovery Transition Program, integrating room amenities, case-managed support and individual client capacity building. This approach aims to maximise a person's progression towards an exit from homelessness.
The new hub includes 48 transitional, medium-stay rooms. Residents who are offered a place in these rooms will generally be provided with 16 to 24 weeks of accommodation and Recovery Innovation Support. Eligibility and timing will depend on individual circumstances, the duration of their homelessness, and pathways to an exit from homelessness.
People who have experienced homelessness for between one and five years may find themselves without ongoing accommodation for a diverse range of reasons. Without intervention, this can become long term. These clients will often require several attempts to exit homelessness before they are able to find a permanent solution and access to ongoing housing. Those who have been homeless for more than five years may commonly be experiencing multiple, complex support needs. By providing access to accommodation for a medium duration, alongside complementary wrap-around support services, VincentCare can ensure that stability is provided while a recovery transition plan is considered.
People who are accepted into the medium-term accommodation facilities can expect a welcoming and secure environment with a level of amenity that allows comfortable and safe living. The accommodation has its own address so that it is distinguishable from the nearby resource centre. As residents enter, the foyer will present a space to 'meet and greet' where they will have line-of-sight and direct access to VincentCare staff. This ensures that the space facilitates a strong, personable link with clients, providing accessibility and assurance. Round-the-clock access to communal areas such as courtyards, laundry and bicycle storage, as well as break-out spaces and other comforts, will give residents a sense of freedom, respect and autonomy. These facilities will aim to support the stability and confidence that will be needed as residents work towards regaining control of their living situations.
Residents will be provided with three meals a day within the Communal Dining Room. The medium-stay rooms include a television and remote control, ensuite with a shower and toilet, and mini kitchenette with a mini fridge, kettle, microwave and kitchen sink. Common rooms will allow spaces for socialising and relaxing, with entertainment such as televisions. CCTV security and access to staff will support safety.
While staying at the hub, medium-stay residents will receive planned access to various supports including: a case manager, therapies and counselling, health care and access to other training and education support. It is our aim to transition these clients out of homelessness and to more sustainable housing options, in a respectful and empowering way that addresses their circumstances and needs, while harnessing their strengths.
Long-term accommodation
For some people, complex health and care needs may mean that long-term homelessness is a reality. VincentCare is able to support these clients over an extended period and the new facilities will provide access to accommodation and services specific to their needs.
The redevelopment will feature 24 long-term dwellings on levels seven to 10. These will be independent living units, primarily targeted to clients over the age of 50 who have complex needs including long-term physical or mental health issues, which may prevent them from finding alternate options for housing. These clients will often require additional support in terms of medical care, or support through our Home Care Packages.
These residents will come from three different streams depending on their duration of homelessness, their needs and their recovery program. Some of the residents will continue to live in the facilities through their senior years, while others will be transferred to other independent living or aged care facilities.
Long-term accommodation will be in the form of one-bedroom apartments, fitted out to a similar standard to market-based apartments and other affordable housing apartments.
They will feature small, external balconies that will complement other outdoor spaces and communal areas within and around the building. Each apartment will have a kitchen with basic electrical appliances and free-standing fridge, ensuite bathroom, storage closest and wardrobe, and bed base. Soft furnishings and other items to personalise the space will be provided by the tenant.
These apartments are designed with accessibility, comfort and functionality in mind. They will provide a good level of amenity, good ventiliation, natural light, easy access, and safety and security.
The long-term facilities will have a dedicated entrance and 24-hour access shared with medium-stay residents – this enables freedom and safety, as well as contact through the 'meet-and-greet' entrance foyer with line-of-sight welcome from staff and volunteers. Passive surveillance enables security without impeding on privacy. Residents will have the option to purchase three meals a day utilising a swipe card system, or to provide their own meals. The long-term accommodation will also have access to one large communal area with soft furnishings and other comforts, as well as a dedicated outdoor courtyard.
This living arrangement meets housing needs while offering a space that promotes dignity, stability, self-sufficiency and wellbeing. There is an emphasis on independence for day-to-day living and self-care, which encourages self-agency and provides a sense of 'home' over an extended period.