Latest news
Assembling ANZAC Appeal badges a proud moment for disability employer, Ozanam Enterprises
This ANZAC Day, tens of thousands of Victorians will wear badges that were proudly assembled by the supported employees at VincentCare's disability employer, Ozanam Enterprises.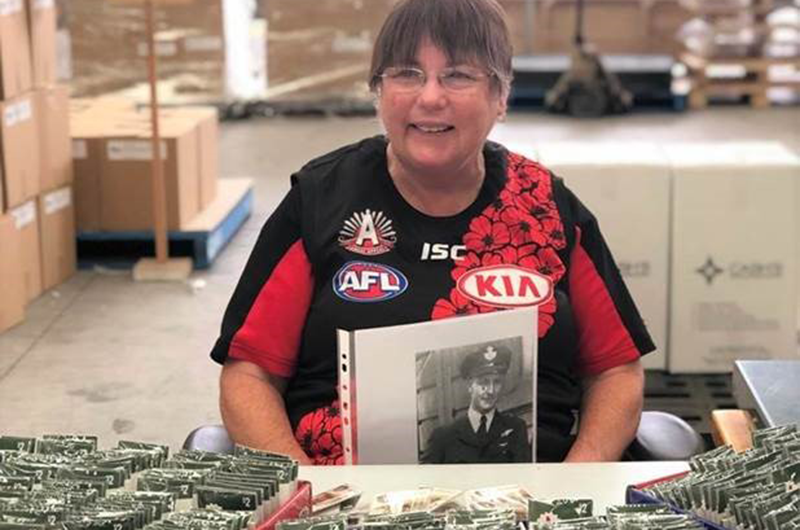 13 March 2019
The team at Ozanam Enterprises has been busy assembling badges for the RSL and by the end of March will have delivered over 80,000 ANZAC Appeal badges.
While all of the supported employees at Ozanam Enterprises are proud to be making a contribution towards the welfare of Australia's veterans, the work is especially meaningful for one member of the team, Julie.
Julie has worked at Ozanam Enterprises for 20 years and she was delighted to work on this year's ANZAC Appeal badges because of her family's ANZAC connection. Having brought in a photo of her dad from home, Julie shared the story of the late James Arthur Taylor, a brave soldier and rear gunner who flew 43 trips over Germany and France in a Lancaster Bomber during World War II.
Amanda Lloyd, Supervisor at Ozanam Enterprises, said the opportunity to assemble ANZAC Appeal badges for the RSL was a highlight for the entire workforce.
"Everyone has loved working on the badges, especially Julie who is extremely patriotic and proud."
Peter Smith OAM, RSL Victoria Appeals Manager, said that Ozanam Enterprises is an excellent example of the kind of organisations which support the ANZAC Appeal.
"Every year more than one million ANZAC Appeal badges are distributed across Victoria, and we couldn't do this without our network of supply chain partners."
Peter went on to say that Julie's beautiful story is a reminder of how important commemoration is to all Australians and especially to those families that have lost a loved one who served.
"For people like Julie, the ANZAC Appeal badges have a double meaning. They are not just about fundraising to support veterans. The ANZAC Appeal badges also give families who have lost loved ones who served a physical reminder that their family member's bravery and sacrifice will never be forgotten," Peter said.
Quinn Pawson, VincentCare Chief Executive Officer, said that the value of paid employment is important for everyone and even more significant for people living with a disability.
"Our team at Ozanam Enterprises do a fantastic job and they show how important it is for everyone to have access to paid employment opportunities within a vibrant, welcoming and supportive work environment."