Latest news
A holistic approach to health and homelessness
VincentCare's new Ozanam House Homeless Hub and Resource Centre will provide clients with essential services and support, enabling a personalised approach to recovery.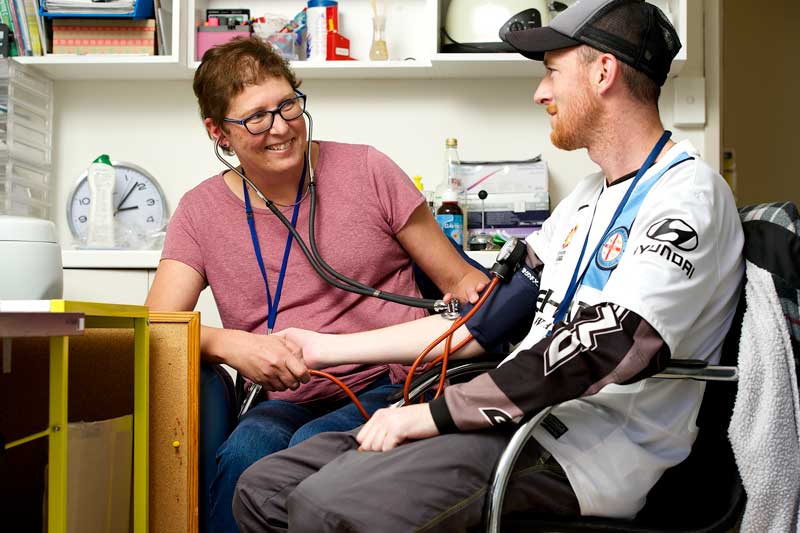 05 February 2019
Recovery from homelessness requires an approach to housing, health and wellbeing that places the person at the centre of their own treatment and recovery.
Clients who present at homelessness services, such as VincentCare, may be experiencing any number of physical, psychiatric or psycho-social health issues that could be contributing directly or indirectly to their experience of homelessness. Senior Practitioner Doug Harding says that it's important to look at all these factors together.
"No two individuals are the same or have the same lived experience of homelessness or presenting health needs. It's important to take a personalised and integrated approach to homelessness recovery to ensure the best possible outcome."
Research conducted by VincentCare in partnership with other agencies in 2014 revealed that people with mental health that people with mental health issues were particularly vulnerable to homelessness with 88 per cent of the homeless participants having a diagnosed mental illness. Many people also develop ill-mental health because of their experience of homelessness. Research also shows that people who have experienced long-term rough sleeping have a reduced life expectancy – just 47 years, compared to 77 years among other Australians.
Doug says these figures highlight the need for a new approach to homelessness. "VincentCare spent three years researching and developing our Homelessness to RecoveryModel (HRM), a first of its kind in Australia. Following a successful pilot program last year, the model will be implemented at the new Homeless Hub and Resource Centre.
"The model has a heavy focus on engagement and the integration of health and wellbeing programs that promote recovery and people's sense of agency. It starts with developing genuine, predictable and consistent relationships with clients, and ensuring a safe, comfortable and accepting environment."
The new Homeless Hub and Resource Centre will have essential health services available on-site to clients to aid their recovery, encompassing the areas of physical, mental and social heath, and including a dentist, nurse, GPs, podiatrists, alcohol and drug intervention, physiotherapy, acupuncture, optometry and occupational therapy. The resource centre will also allow for social interaction with recreational facilities, an on-site café, open plan dining, as well as a gym, library and art therapy program.
"Creating opportunities for people to make connections, rediscover their strengths and pursue their interests creates a foundation for reconnection with significant others or a return to their communities of choice," Mr Harding said.