Client stories
Trace finds her community
Trace has worked in various paid and voluntary roles. While she was completing a training course, however, she began to experience stress and working without support was proving difficult for her. Ozanam Enterprises was recommended to Trace and she hasn't looked back.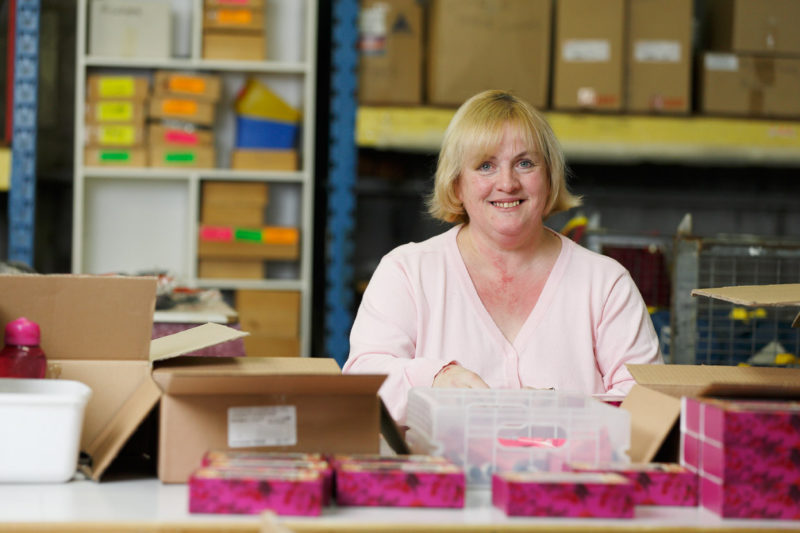 05 July 2017
 "After trying it I absolutely loved it. The people here are absolutely beautiful, I couldn't be happier. On Tuesday and Thursday I work on the phones and on Monday and Wednesday I'm in the factory."
"Trace is full of energy and lots of fun," says Dianne Fieldhouse, Training and Support Manager, Disability Support Services at Ozanam Enterprises. "She's quite incredible and a really positive and calming influence here. Recently she represented Ozanam Enterprises outside of the workplace and she's been a really great ambassador."
"All I really wanted was to work and be involved in the community" says Trace. "At Ozanam Enterprises I feel I can use my initiative and people can rely on me. It's a really good feeling."
---
Ozanam Enterprises is a commercial business that employs people with a disability to refurbish  headsets for  a major airline, complete various packaging tasks and disassemble TVs and computers as part of an e-waste  recycling  operation, which diverted 232,283 kilograms of landfill in the past 12  months.
Ozanam Enterprises was established in 1976 and this year will celebrate 40 years of providing ongoing, stable employment and training opportunities. Supported employees Lee Buchanan and Graham Simmons commenced when Ozanam Enterprises was first established and will celebrate their 40-year milestones this year – a wonderful achievement.